HERE is the December  Schedule – click on the link — > December 2018  
NOTE: 3.5 & 2.5 Sessions have changed times on Tuesdays.
3.5 – will now be 3pm-5pm on Tuesdays
2.5 – will now be 5pm-7pm on Tuesdays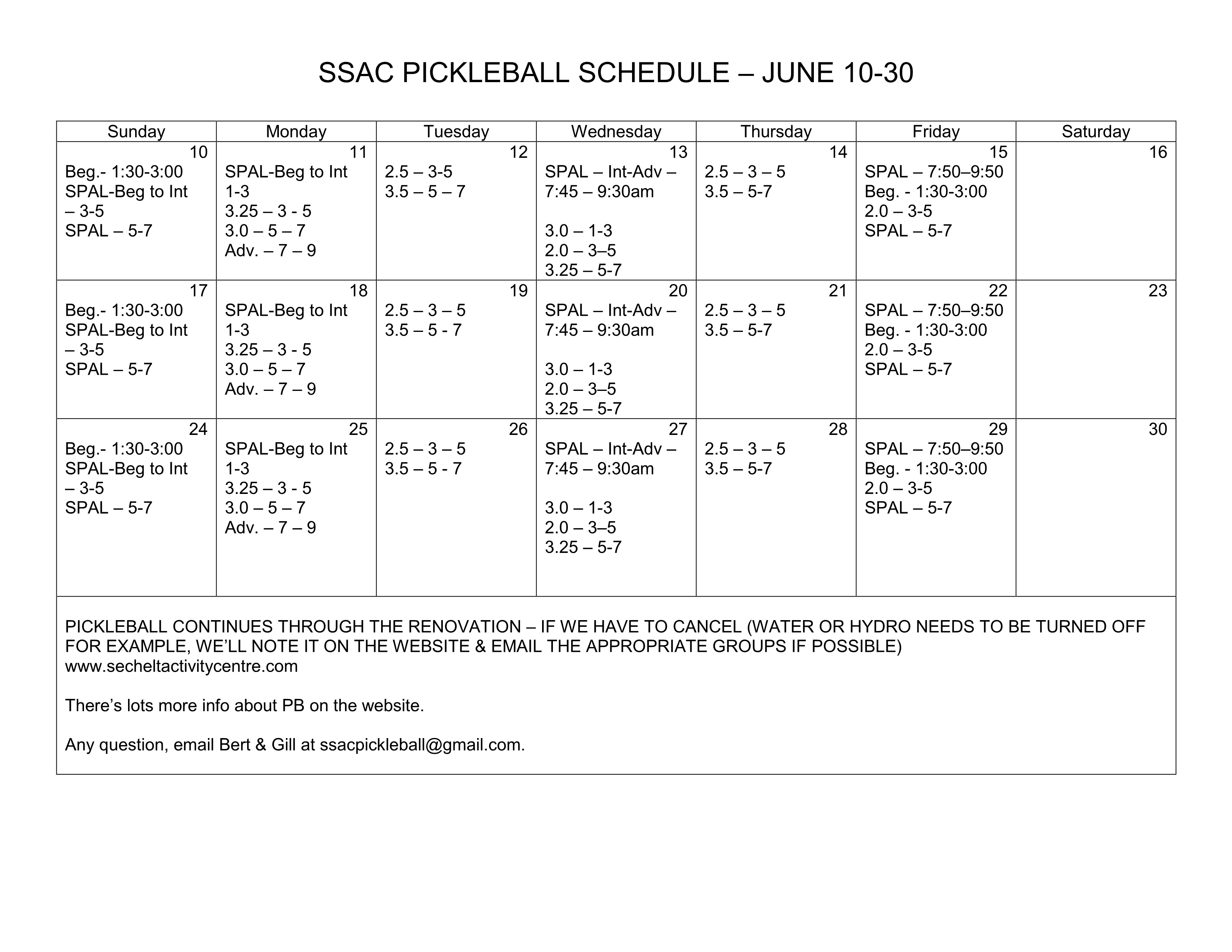 PICKLEBALL WILL CONTINUE THROUGH THE RENOVATION PERIOD!!!
The Front of the building will be closed, but the back parking lot and auditorium will be open for use (with some cancellations when the power or water need to be turned off).
Keep checking the website for more info.
HERE IS THE LATEST PICKLEBALL NEWSLETTER
PICKLEBALL PRESS – Fall 2018
Pickleball at the SSAC is inclusive, fair, fun and competitive, with an emphasis on FUN! The Centre is the best venue on the Coast, with well-maintained, air conditioned regulation-sized courts with a new sports floor.
All pickleball players, whether beginners, top-level players or players who simply enjoy being physically active and want to play for fun, are equally important. The Centre provides opportunities for players regardless of age, ability or interests, through level play and social play, and other special sessions; all at an affordable cost.  There is a drop in fee of $3 per session and a 2018 SSAC membership is required.  Membership for the rest of  2018 is now only $12.50 and is available at the Centre weekdays from 9:30 to 1:30.
You are welcome to try pb once (just pay the $3 fee) before joining the SSAC.
Access the auditorium via the back door.  There is parking there too.
There are set times for level play and social play.   Everyone who knows the basics and the rules is welcome to attend Social Play on Friday mornings 7:50am-9:50am, Friday evenings and Sundays from 5-7pm.    There is also a Social Play session on Sundays from 3-5pm for Beginner to Intermediate players.  On Wednesday mornings 7:45 to 9:30, there is Social Play for Intermediate to Advanced players.    Check the schedule to confirm the times.
The remaining times are for level play sessions.
Thanks to Sheryl Warner and all our coaches and coaching assistants for organizing Beginner Pickleball Lessons.  The first round of lessons were a great success and we hope to start another beginner course in October.  In the meantime, feel free to attend a Beginners session on Friday 1:30 to 3pm.  Equipment is available and one of our coaches will be there to help you.
If you are new to the SSAC, but have played before, you can attend Social Play or Beginners but do not drop into another level play session without first discussing your situation with one of our coordinators – Gill or Bert – at ssacpickleball@gmail.com.
Safety First:
The game of pickleball like any physical activity bears inherent risk. It must be understood by all participants that they accept these risks when they play this sport at the SSAC.
Players are responsible for assessing their own health and fitness status before participating in training and before playing every game to determine if they are fit and ready to play.
In addition, participants must abide by our Code of Conduct and ensure that they do not behave in a way that could injure others.
Scroll down for more links to info about Pickleball at the SSAC and coaching tips.
1) Pickleball Progression Chart
 Questions? email us at ssacpickleball@gmail.com